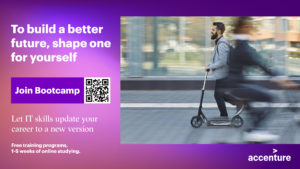 Build your IT career at Accenture Baltics!
If you would like to start a career in IT and have internship at Accenture Baltics, apply for Accenture Bootcamp – the most extensive, remote and free IT training provided by Accenture – one of the leading IT companies in the world. Bootcamp is free of charge set of intensive trainings with a mixture of teamwork, self-study, workshops and hands-on experience. After the Bootcamp, for the most successful participants we offer 3 month fully paid internship at Accenture Baltics.
Best graduates will be offered a permanent job position!
About the training:
Join Accenture's Java Bootcamp course! You will learn both the theory and practice of the world's most popular language, which is Java. Yes, you've got it right – programming languages, or languages which computers and other machines use to communicate with each other and with humans, are also… well, just languages. During our Bootcamp, you will gain knowledge in Java programming, architecture and design, as well as testing and methodology fundamentals.
You will learn programming in Java, using Git (version control system), and the basics of setting up Linux and will explore writing Java command line applications, Java desktop, Java Android and server applications.
More information here:http://www.bootcamp.lv